10 Easy Cleaning Tips You Can Use in Your Home Today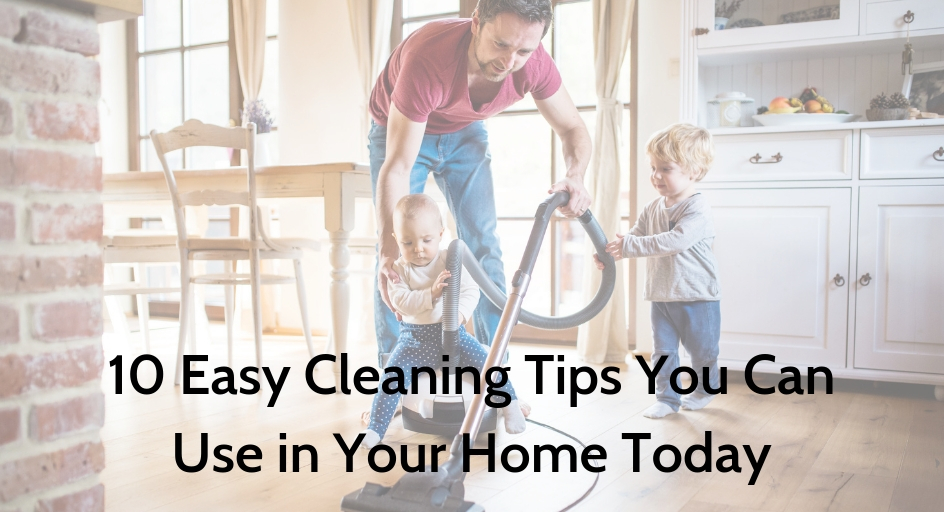 After a long day at work, we all dread coming home to our daily chores. From making sure that the kitchen is clean, to picking up after your children, wouldn't it be awesome if you could speed up the process? With these easy cleaning tips, you can!
1) Lint Rollers Can Be Used For More Than Lint!
You may think that the only use for your lint roller is to eliminate dog hair and dryer lint from your clothing. However, it can be used for far more. When you have to get rid of dust around the house, use a lint roller. It's a faster means of cleaning and you don't need to purchase an extra cleaning product.
2) Have Difficult Stains On Your Shower Faucets?
No matter how hard you try, those pesky stains on your shower faucet will not go away! Instead of buying cleaning product after cleaning product in pursuit of the holy grail of shower cleaner, simply use lemon!
3) Let Your Blender Clean Itself
The beauty of a blender is that little blend button. All you have to do is put water inside the blender, add dish soap, press blend, and voila — you have a clean blender. No hard work required.
4) Clean That Cast Iron
Cast iron can be difficult to truly clean. With a little coarse salt, you can easily get the job done in no time.
5) Toys in the Dishwasher
If your child loves to bring their favorite action figures or plastic toys outside to play, you will quickly notice the added dirt and debris. When your child goes to sleep at night, you can wash their favorite toys in the dishwasher! Be sure to secure them in the silverware area of your dishwasher so they stay put during the cycle.
6) Use a Dryer Sheet on Electronic Screens
Your television, computer and other electronic device screens have a static cling that causes dirt and dust to be attracted to it. Use a dryer sheet to quickly get rid of the dust, reduce the static cling, and have a clean device.
7) Canned Air is Great for Keyboards
Have you ever noticed all of the debris that gets stuck in between the keys of your keyboard, between your countertops and refrigerator, and other hard to reach places? Quickly get rid of it with a bit of canned air!
8) Tired of Coffee Stains?
Baking soda cleans just about anything around your home, including coffee stains. From table rings to recent spills, it'll clean the mess quickly and easily.
9) So Long Permanent Marker
Kids make mistakes… such as coloring on your hardwood floors with permanent marker. Grab a dab of toothpaste and use pressure to rub it in. You'll see the results in no time!
10) Have a Plan of Action
If you're like most homeowners, you get overwhelmed with the amount of cleaning that needs to be done and start frantically running around. Instead, have a plan of action and stick to it. Start by cleaning room by room and go from there!
Tired of cleaning an old home? Check out the homes available from Eastland Construction today to find a brand new home for your family.