Custom Homes – 4 Common Additions
Custom Homes – 4 Common Additions

When building your custom home with Eastland Construction, you have multiple options. Most homeowners revert back to the typical rooms in a home. Most often people have the following rooms in their custom home:
Bedrooms
Bathrooms
Kitchen
Basement/Game and Entertainment Room
Living Room
Garage
However, with a custom home, you have so many options to choose from! Why not consider adding one of these great ideas to your custom home?
Home Office
Do you find yourself overwhelmed with work? Instead of working all day at the office, take your work home to your spacious home office. With the option of choosing your own colors, organization system, furniture and more, you can arrange your home office to be exactly what you need to work efficiently and productively.
Extra Room
When you add an extra room to your home, you can decide what you want to put in that room later! Perhaps you'll use it as storage, an in-home gym, an entertainment room or a guest room. You have so many options when you have an extra room to use.
Master Bathroom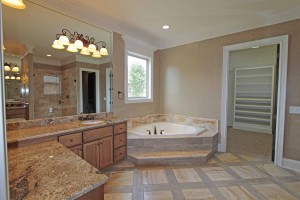 Do you like to take time to pamper yourself? With a master bathroom, you can relax however you please. From a stand up shower to a full-sized mirror, your expansive bathroom can be decorated however you please. Be sure to decorate your master bathroom in accordance with your personal style and taste!
Sunroom
Adding a sunroom to your home will provide you with another peaceful place to relax and rid the stress away. With spacious windows and multiple decoration opportunities, adding this room to your custom built home might be your best decision yet!
If you're interested in building a custom home, and are looking to add any of these rooms, be sure to contact the professional homebuilders at Eastland Construction today.