Remodeling Your Kitchen? Don't Underestimate Backsplashes!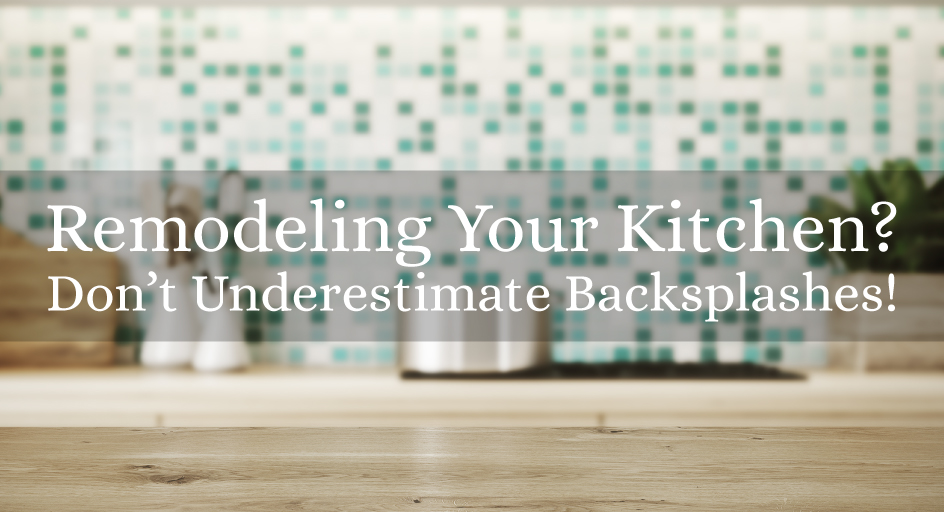 Remodeling your kitchen is an exciting time! From the floors to the ceiling, you have the distinct opportunity to completely transform your kitchen. With so many options for every aspect of your kitchen, you have a lot of choices to make. However, there is a super easy decision we guarantee you'll make and agree with us on: tile backsplashes.
To be fair, you're probably asking, "Why should I install a tile backsplash? Convince me!" We've got four persuasive reasons that you need a tile backsplash in your Mt. Juliet home kitchen.
Backsplashes Add Personality
The purpose of remodeling your kitchen is to transform it into what you've always been dreaming of. Therefore, you need to make sure that your kitchen radiates the appearance and personality you desire. The ability to truly customize your tile backsplash will provide your kitchen with the ambiance it deserves.
Easy to Maintain, Simple to Clean
Messes happen in the kitchen. It's inevitable. With other types of walls or backsplashes, messes can potentially become permanent. As you know, tile is easy to maintain and simple to clean if a mess was to occur. Wipe the spaghetti sauce off of your tile backsplash, use your preferred cleaning product, and voila – it's clean!
Modern Appearance and Design
Tile backsplashes are completely in, with regards to kitchen design and remodeling. These kitchen additions have the ability to give your kitchen a personality, and combine the latest interior design trends and appearances. From bold colors, to enticing patterns, the opportunities for modern customization are endless. Whatever colors you enjoy or patterns you prefer, it's all possible with a tile backsplash. On top of that, when you partner with a renowned custom home builder and remodeler to install your tile backsplash, you'll have the ability to bounce ideas back and forth until you find your ideal appearance.
Durable Kitchen Amenities That Last
We've all heard of remodeling projects gone wrong, especially kitchen remodeling projects. One minute your neighbors are boasting about their gorgeous new kitchen, the next they are choosing a new countertop or table since their 'new' one broke. Tile backsplashes are built to last. These durable and decorative kitchen pieces are perfect for the homeowner looking for return on investment and stunning design.
Eastland Construction in Mt. Juliet Tennessee knows exactly what you need for your kitchen remodeling project. Whether you're invested in installing a tile backsplash or are dying for new hardwood floors, we're here for you. Call us today to get started on your kitchen remodeling project.