Simple Tips for Adding a Guest Room to Your Middle Tennessee Custom Home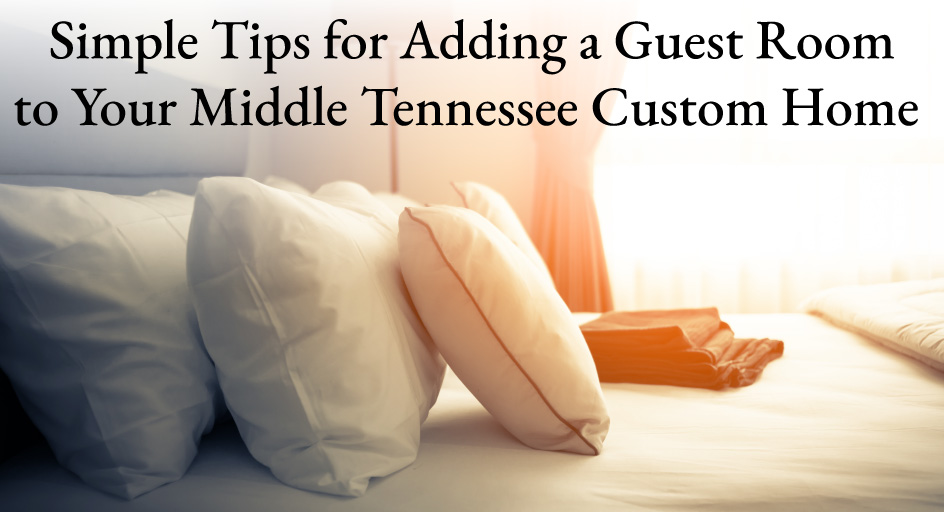 Does your Middle Tennessee home have an unused office, a storage room you've been meaning to clear out, or a bedroom that an adult child has moved out of? A guest room could be a wonderful addition to your home. Even if you designed your custom home with a guest room, there may be ways you could improve its design, layout, or functionality.
Comfort is Key
The most important feature in a guest bedroom is (you guessed it!) the bed. If you're able to, purchase a new mattress for the guest bed instead of repurposing an old one you already have. Make sure you use soft and breathable fabrics for the bed linens. No one wants a houseguest who didn't get any sleep. Do a trial run by sleeping in the guest room yourself for a night or two. By doing this, you can make sure the bedding is comfortable and there are no obnoxious noises, bright lights, or other features that may cause your guests discomfort.
Like a Hotel, but Better
Another top tip for creating a guest room is to base it off of the best hotel you've ever stayed in. What made the stay so memorable? One thing you can easily do to make your guest room feel like a 5 star hotel is to focus on the little things. Just like a hotel, you want your guest room to be a home away from home for visiting family and friends. It's important to stock the room and guest bathroom with anything your guests may have forgotten, such as extra blankets and robes, clothes hangers, toothbrushes and toothpaste, toilet paper, soap and shampoo, a hair dryer, and even extra phone chargers.
Keep Them Entertained
Guests need entertainment as well as comfort. Add a shelf with a few books or magazines on various topics. If your guests have children, add some books for them as well. Make sure to provide a bedside light so guests can comfortably do their reading snuggled up under the blankets. If you put a TV in the guest room, consider leaving your streaming services logged in and create a "guest" user for them to browse on. Last but certainly not least, don't forget to write the Wifi password in a place that's easy to find!
Custom Homes in Middle TN
Having a comfortable and well-stocked guest room can be an essential feature for your home. Make sure you are showing your love and excitement for visiting family and friends by ensuring their stay in your home is just as stress-free a stay in a luxury hotel would be.
If you're looking for a new home with more room for guests, contact Eastland Construction to build the custom home of your dreams!